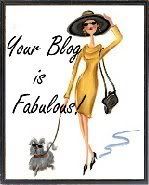 Angela
passed this "Your Blog is Fabulous!" award to me. I am thrilled that she chose me. If you haven't had the chance to check out her blog before please do so now. So fun!!! If I understand this correctly I have to list five of my addictions and then I get to choose 5 people I would like to pass the award onto.
Addictions
1. Anything scrap related (buttons, ribbon, and you can't forget paper.... oh that glorious paper)
2. the kits and my friends at
THE SCRAPROOM
3. Hedgehogs, mermaids, owls, toadstools, and of course FLIP FLOPS
4. Bible Study workbooks ( I am on the hunt for a new study ....feel free to leave suggestions)
5. Target and their Archer Farms BLACK PEPPER and SEA SALT potato chips
Award Winners
1.
Steph
and all her HOMEGROWN HOSPITALITY
2.
Ashlee
with all of her craftiness
3.
nienie
her story just tugs at my heart
4.
Big Mama
- love her sense of humor and well she lives in TEXAS .... she totally deserves a shout out ;)
5.
Nitty Gritty
- love her willingness to share so that others may see HIM
6.
Angie Smith's
blog BRING THE RAIN - because she has been through the ringer (or is that wringer?) and yet HIS love still shines -- and she is a great writer
Please don't forget to check out the links- their blogs are so inspiring :)